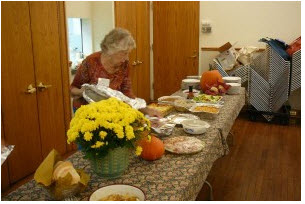 Deacons
The Deacons are the formal servingarm of the church. Deacons at First Presbyterian Baldwin minister to the sick and homebound, and prepare communion, amongother duties.
Click here for Elders and Deacons Training Manual
The manual features three sections.
Elders and Deacons. An introduction to the Presbyterian Structure and the place of Elders and Deacons within it, alongside some scriptural passages that speak of their office & sections from the PC(USA) Book of Order.

Presbyterian Documents. A guide to the PC (USA) 'Book of Confessions' and 'Book of Order'. Includes a 'ReadingGuide to the Book of Order'.

Essential Tenets. At ordination Elders and Deacons are asked to affirm their belief in the 'Essential Tenets' of the faith. With a little help from Jack Rogers this section offers some food for thought.

Appendix. A 'Top 10 list', Duties of Session and Duties of Deacons.
Some helpful resources are available from Amazon.Com. Should you buy them through this website they generate a little extra income for our church